Product Description
XMAX 4 V3 – Horticultural LED Panel with lenses, 600 LED Watts, 350 true Watts
A power and technology concentrate, equipped with 5 Watt LEDs, integrated 90 Watt LEDs and lenses!
The last release of the XMAX range!
Thanks to the new integrated LEDs, horticultural LED lighting reaches a new level, offering performances that never were achieved before. Ordinary, horticultural LED panels are composed of multiple chips (electronic components) of 1 to 5W. By contrast, the XMAX panels consist of 90 Watt integrated LED (30×3 Watts) and 5 Watt dual-LED chips.
The best of both technologies is gathered into one single panel. The 90 watt modules allow a much greater penetration of light (luminous flux ability to pass through the canopy). Combined with 5 watt LEDs, the XMAX gives off a rich, powerful and consistent light spectrum. Throughout all this, you always have the ability to tweak the light spectrum so it all fits your needs.
Version 3 of the XMAX range is equipped with lenses on its LEDs in order to concentrate the luminous flux and increase light intensity. The 5 Watt double chip LEDs are equipped with fixed lenses and the 90 Watt integrated LEDs with removable glass lenses. This way the user is able to modify the lightning according to the cropping area so it adapts to the plants.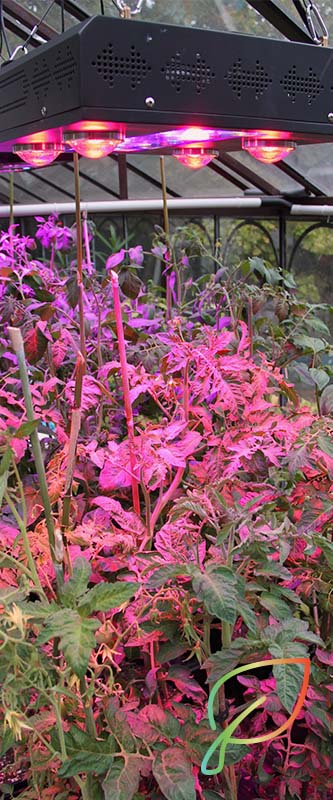 About the lenses:
Lenses added on the 5 Watt double chip LEDs have an efficiency of 90% and a beam angle of 90°.
The glass lenses have an efficiency of 95% and a beam angle of 90°.
Thanks to the lenses, the luminous flux is more concentrated, so plants benefit from a more intense light and allows the fruits and flowers to grow more.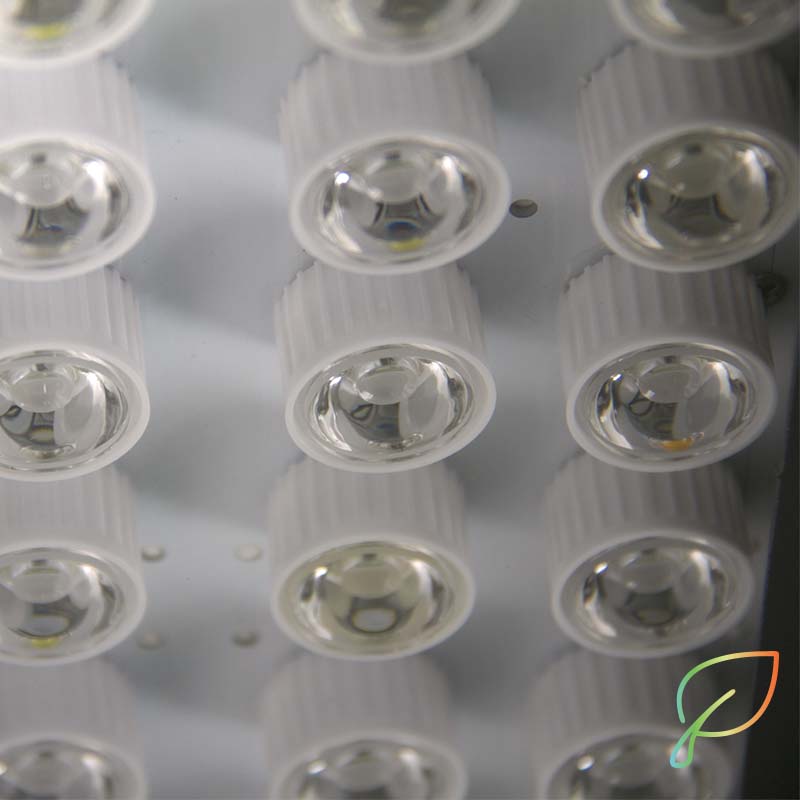 Integrated LED – COB

The integrated LED technology or "Chips On Board" (COB) consists in placing multiple LED components (LED chips) within a small area to form a high intensity luminous flux.

It has the advantage of improving the light penetration and therefore allows the plants to receive light from a greater height.

Our integrated LED are equipped with 30 chips 3 watts (630nm and 660nm reds)
Wavelengths:
395nm UV, 430 and 460nm blues, 630 and 660nm reds, 740nm infrared, 2 700k white, 10 000k white.
The exact composition of the LEDs is not disclosed in order to keep our technological lead.

XMAX V2 or V3 ?
The luminous flux of XMAX V3 is more concentrated than that of  V2. The light penetration is much higher but the covered area is lower. The plants will receive light from a greater height, allowing you to grow taller ones.
Choose your lighting depending on your type of culture

And adjust the lighting depending on the needs of your plants

Only logged in customers who have purchased this product may leave a review.