Product Description
XMAX 4 V4 – LED horticultural panel
600 watts LED, effective: 330 watts
More powerful, better cooling, better output …
Horticultural LED for greenhouse and indoor growing
Discover the new improved version of XMAX !
Still equipped with 5 watts double chips LED for an optimal lighting performance and with integrated 100% red LED for high luminous penetration, XMAX V4 have a new specter enabling a better photon release and so better efficiency.
XMAX 4 V4 LED components' maximum capacity is 600 Watts. To improve their performances (better lumens/watts or mW/watt) LED are alimented with power between 40% and 55% of their maximum capacity and provide an almost 100% PAR light. Effective power of XMAX V4 is 675 Watts. Like the previous series, XMAX V4 contain all wavelength from infrareds to UVA to grant the plants everything they need.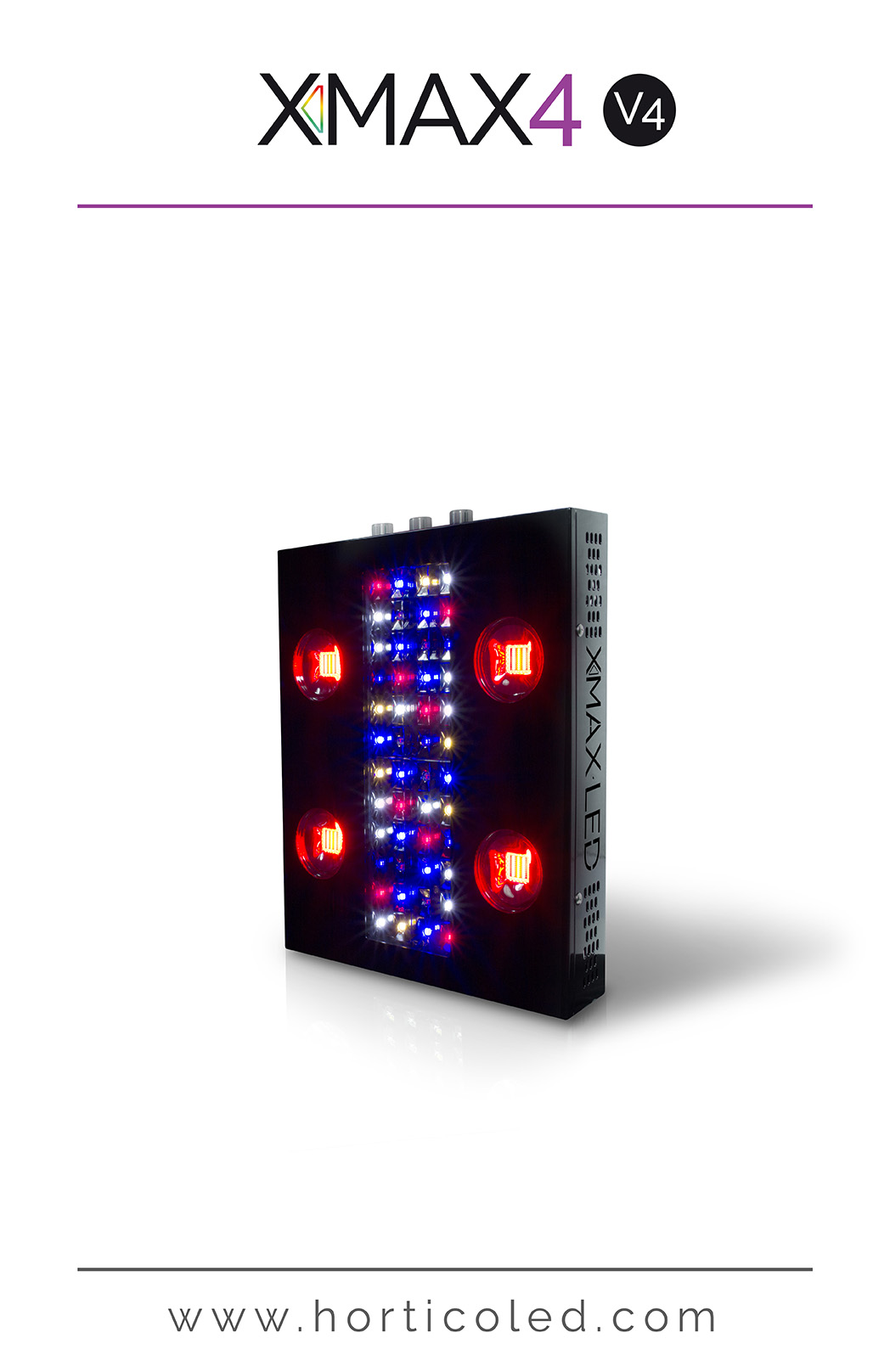 Design :
Thanks to their new design, lighting box LED XMAX V4 enable a better air flowing, so a better LED components cooling. Thermal performances are playing a big role in LEDs durability and lighting performances' sustain.
XMAX 4 V4 are equipped with 3 dimmers, each one controlling a LED group so you can use XMAX products from cutting beds to flowering. This enables you to optimize specter following the development stages of the plants.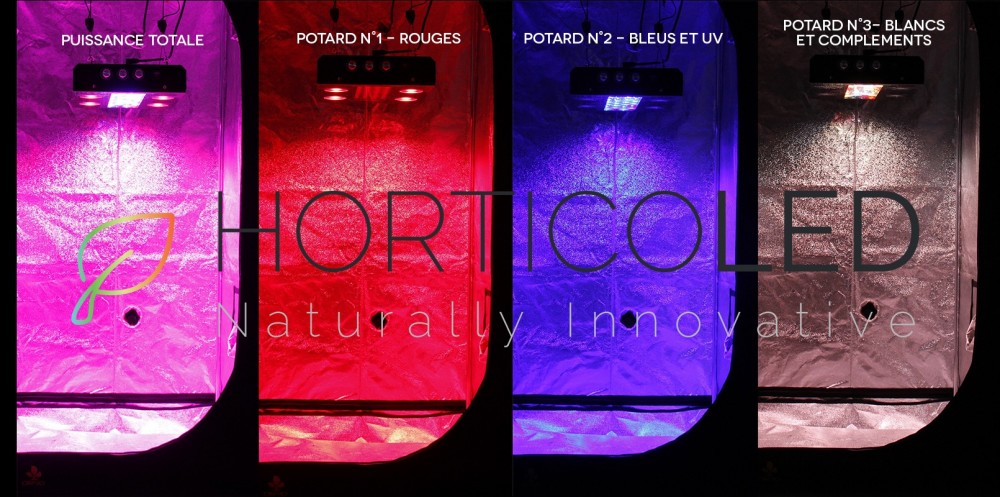 With horticultural LED, forget about cooltubes, light bulb changes and heat troubles …
Specter and wavelength:
XMAX 4 V4 new spectrum has really different ratios for wavelengths compared to previous versions. The strongest modifications are in the 400-460nm wavelength. White 2700/10000k LEDs' ratio also evolved, and so have their number. Our V4 spectrum enables to obtain a PPFD around 30% higher than XMAX V2-V3 (photosynthetic photon flux) which represents the quantity of light the plant can absorb.
UV 410 nm, blue 430 and 460nm, red 630 et 660nm, IR 740nm, white 2 700k, white 10 000k.

In order to preserve technologic advance, precise LED composition is not published here.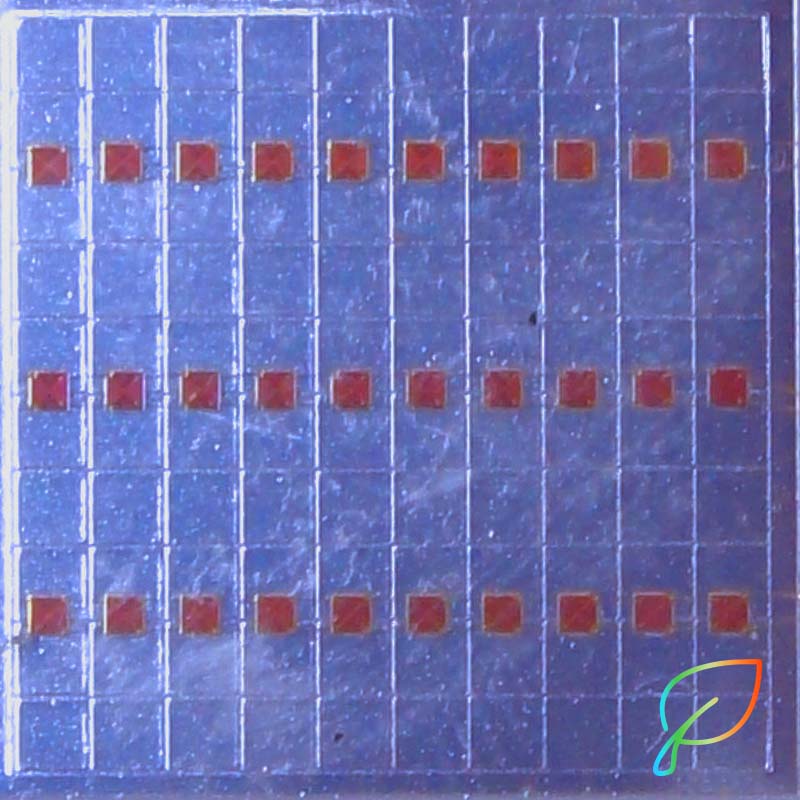 Integrated LED – COB
Horticultural lamps XMAX 4 V4 are equipped of 4 COB 100% red emitting a very intense light, favouring an abundant flowering. Integrated LED technology (or Chips on Board – COB) consists in placing several LED components on a small area in order to build a strong set emitting a high intensity light flux.
XMAX 4 V4's COB emits 660nm red which is the best absorbed wavelength, and 630nm red which has the greatest photosynthetic power. Red wavelengths are also the less effective one to pass across the foliage; this is why we use the COB tech for the greatest part of 600-700nm red light emitted.
5 Watts doubles Chips LED
Our goal is to provide products more effective than 100% COB ones. In complement of our 100% red COB we use 5 Watts LED, each one containing two 3 Watts chips. This conception provides higher efficiency, so higher luminous or electric efficiency.
For example, a 3 Watts LED used with a 2 Watts power will deliver 100 lumens per Watt whereas a 5 Watts double chips LED used with a 2,5 Watts power will deliver 110 lumens per Watt. Moreover, reducing the LED's alimentation power results in prolonging the components life time and guarantying a reliable investment on long term.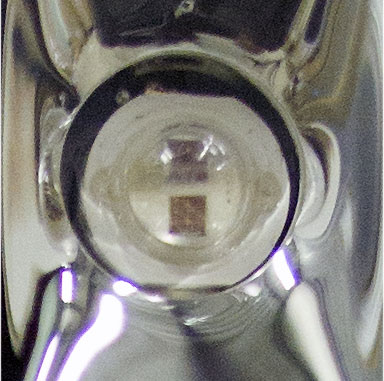 XMAX 4 V4 – Homogenous power and lighting !
Thanks to new integrated LEDs, LED agricultural lighting has reached higher performances, providing higher results. Usually, horticultural LED panels are composed with several chips from 1 to 3 Watts. XMAX models panels are only composed of integrated 90Watts (30x3Watts) et 5Watts double chips LED (two 3Watts chips).
The best of these two technologies is reunited into one panel. 90Watts units enable you to obtain much higher luminous penetration (luminous flux through the canopy). Thanks to integrated LEDs (COB) and 5 Watts LED association, the XMAX emits a rich, powerful and homogenous specter. The possibility of modulating the specter to adapt the light to your plants' needs thanks to dimmers is a real advantage for indoor growing.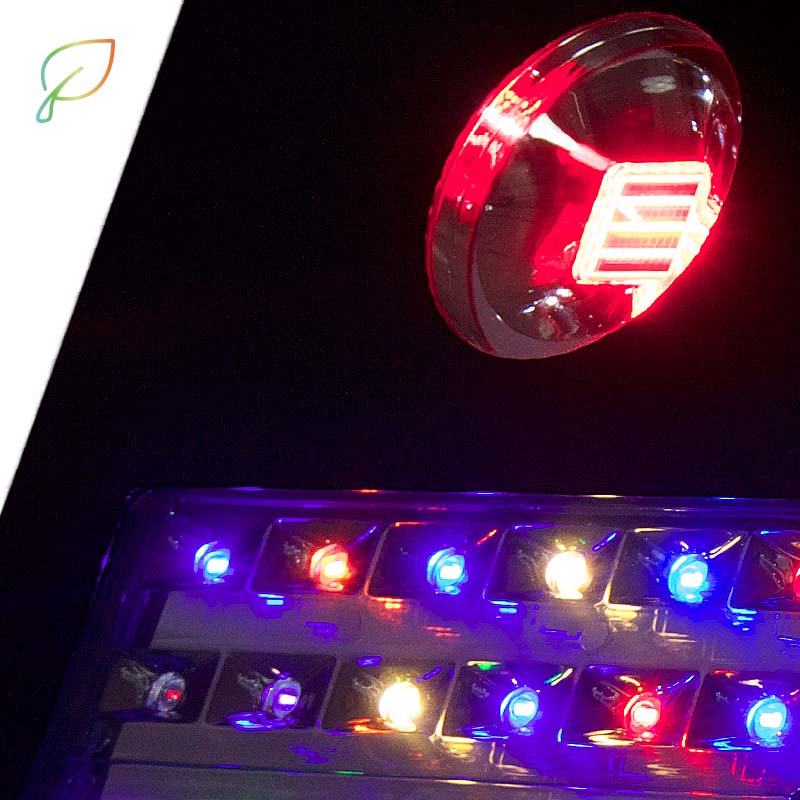 XMAX 4 V4 covered area
Thanks to their mini-reflectors, XMAX 4 V4 covered areas up to 140x120cm². The luminous flux enables covering the culture area totally homogenously. The optimal area covered is around (120x120cm² in growth and 100x100cm² in flowering).
At full power the XMAX 4 V4 can cover :
– Cutting : 1.5×1.5m at 80cm distance
– Growth : 1.2×1.2m at 60cm distance
– Flowering : 1mx1m at 40cm distance
Distance lamp/apex
Recommended distance between XMAX 4 V4 and the plant apex varies between 30 and 80cm depending of the power used for the lamp, the covered surface, the plants and the development stages of the plants.
Which specter for which stage ?
XMAX 4 V4 have been conceived for easy use. The 3 wavelength groups are made in a logical way to provide the best specter following the plants' development stage.
The 1st dimmer contains a white, red and infrared mix providing a complete specter ideal for cuts rooting and germination.
The 2nd dimmer contains a blue and white mix perfect for growth, enabling to keep a compact bush.
The 3rd dimmer controls the 100% red COB with high photosynthetic power optimized for abundant flowering and high growth rate.
High quality silent fans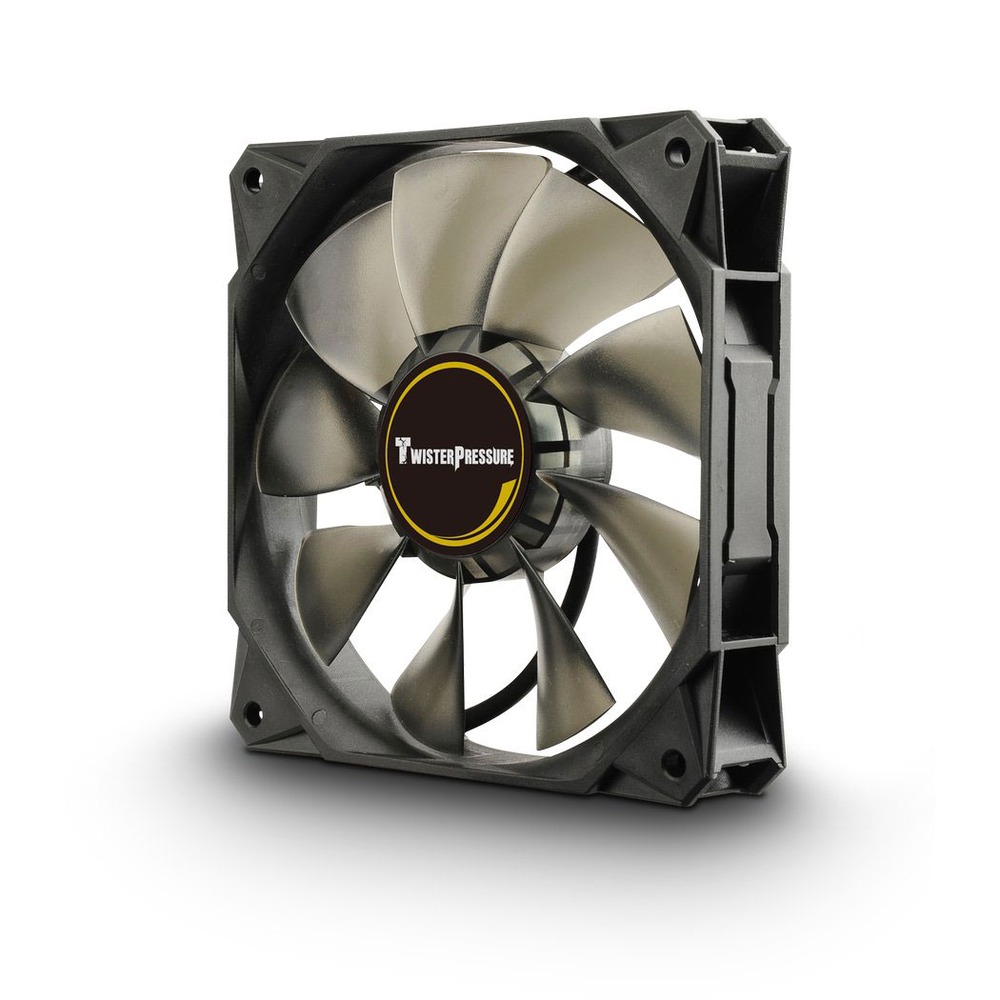 To guarantee an optimal cooling and a maximum life time, we chose to use high quality fans from ENERMAX Twister Pressure line in or XMAX 4 V4 LED lights.
Indeed, made from high pressure blades, this new fan enables to reach exceptional performances in terms of cooling and silence.
Resistant to extreme heat conditions, this fan can evolve in a up to 85°C environment (twice the XMAX functional heat).
Moreover the Twister Pressure fan from Enermax has a life time 2 to 3 times higher than median, cooling your system for 160 000h functioning.
Why do not use lenses ?
Our goal is to provide our user practical and performant lamps. In the case of chamber utilization, the LED lens models like XMAX V3 are only practical to use because the lamp/canopy distance is often doubled to cover an identic area.
This is a problem for indoor use with limited space.
This is why we have stopped the V3 model equipped with lens to promote mini-reflectors models instead.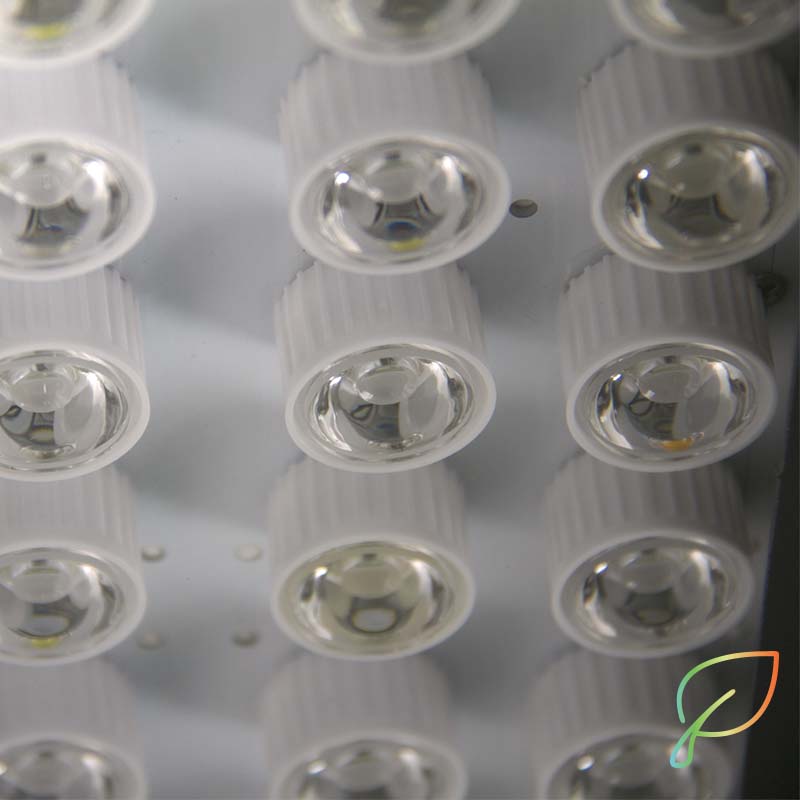 Other products from the LED XMAX V4 line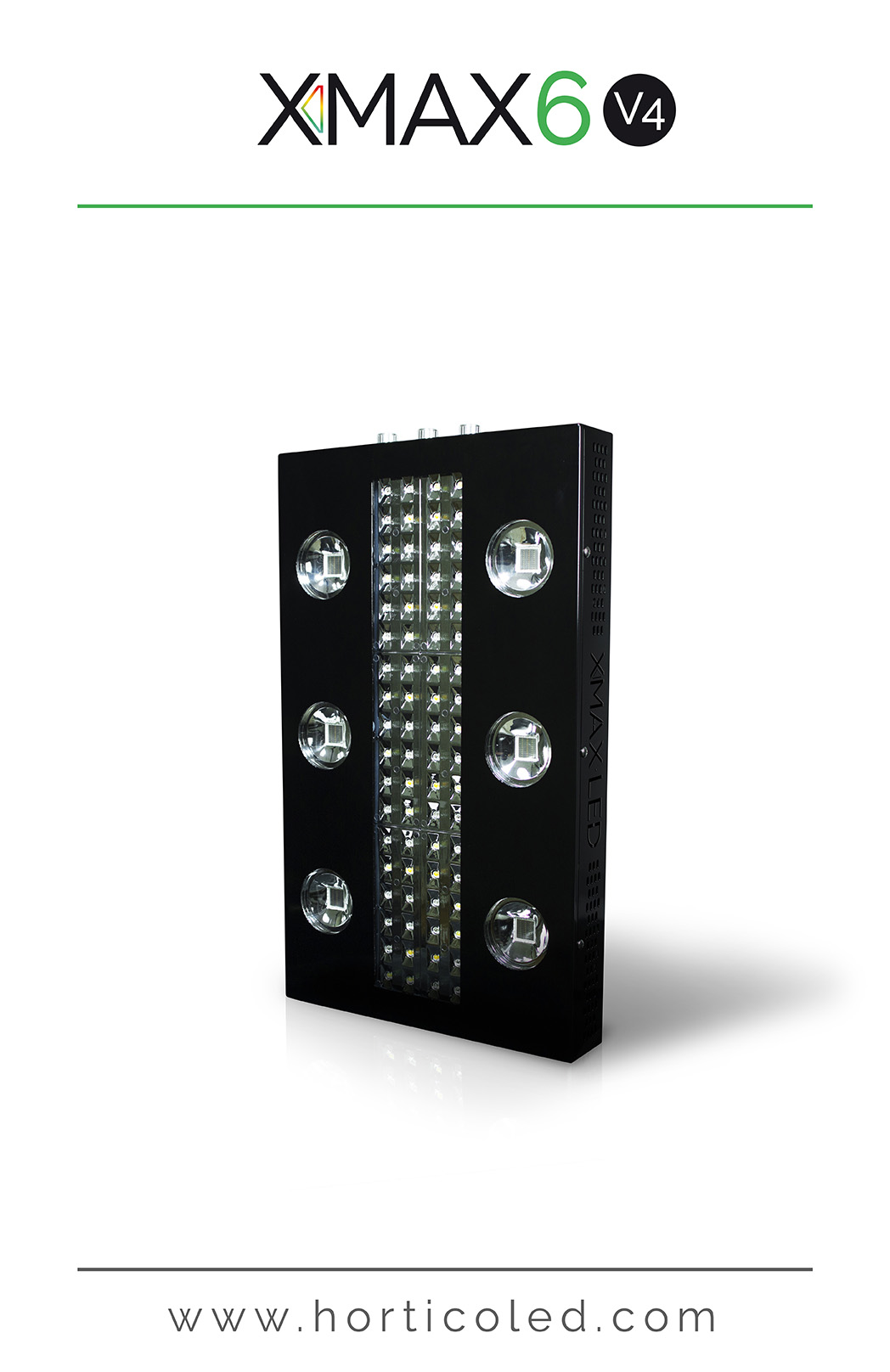 ICI
Additional Information
Weight
9 kg
Dimensions
60 x 50 x 40 cm
Poids Net

8,3kg

Poids Brut

11kg max

Puissance LED

600 Watts

Puissance Effective

330 Watts

Puissance Variateur 1 (Blancs & Complément)

54,5

Puissance variateur 2 (Bleu & N-UV)

66

Puissance variateur 3 (COB)

230

Dimensions de l'appareil

453 x 385 x 100 mm

Surface couverte

En fonction de l'usage

Nombre de ventilateur

2

PPFD à 30 cm

1017

PPFD à 45 cm

483

PPFD à 60 cm

350

Courant de fonctionement

1,56A à 220V
3A à 110V